Craft brewers discovering the                                              benefits of Alfa Laval technology
Alfa Laval is the best option when it comes to producing high-quality craft beer. Our customers share their experiences with Alfa Laval centrifuge technology and the benefits it brings to their businesses. No matter what style of beer you prefer, Alfa Laval is always the best option when it comes to saving money and time while producing high-quality craft beer.
Check out the latest stories
Improve quality through innovation
For Market Garden Brewery specialists, technology and innovation play a critical role in the production of quality beer. Do you want to know why? Check out the video to hear how Market Garden reduced their losses and boosted their production, while improving the quality of their craft beer.
Have the finest experience
Jackie O's experts found Alfa Laval to be top choice. With Brew 250 and ProCarb inline carbonation, the American brewery was able to cut losses in half and save time on production, without compromising the quality of their craft beer. Watch the full video to learn why Alfa Laval offers the finest experience for craft breweries.
Explore Alfa Laval technology for breweries
"Our beer went from good to exceptional…"
Watch this video to hear from Adam DeBower, owner and founder of Austin Beerworks, about how a fully hermetic Alfa Laval centrifuge improved his brewery's operations – and their beer. Thanks to the unique design and advanced features, along with first-class support from Alfa Laval's leading brewery separation experts, his team has been able to take their craft beer from good to exceptional.

The secret ingredient of making great beer
Meet Christian Holmlund from Salama Brewing - it's a small but ambitious craft brewery, specializing on 'extravagant beers'. They opened just 1,5 years ago and installed Brew 20 centrifuge. Now they sell every batch before it has even been brewed. Learn about the factors behind their success and find out how a Brew 20 beer centrifuge helped them to get 10% more beer from every batch.
Reaching new peaks of profitability
Australia's mountainside Jindabyne Brewing is a hyper local craft brewery with a unique focus on refreshing lagers. Sustainability is crucial to their business, and their investment in a Brew 20 has helped them to cut waste in their operations. It has also helped them to increase yield by an average of 10% – and in some cases up to 18% – giving them a base for increased profitability.




Performance to compete with the big brands
Värmdö Bryggeri, a microbrewery based outside of Stockholm, Sweden, has established themselves as a hit among locals. Thanks to Brew 80 centrifuge, they have cut product losses and increased yield by 8%.



Enthusiasm as the growth ingredient
Denmark's independent Amager Bryghus has consistently ranked as one of the best craft brewers in the world. In addition to increasing output, their Brew 80 has given Amager Bryghus the ability to be more creative and experiment with new flavours.
Enhanced flavour with maximum hoppiness
Mic Heynekamp of Eddyline Brewery in Nelson, New Zealand, is a veteran brewer who knows his stuff. He chose Brew 80 for Eddyline's big, juicy IPAs in order to capture the flavourful hop oils that are lost in traditional clarifying processes.

Best of both worlds at Rebellion Beer Company
Rebellion Beer is driven to revive a high-quality, local brewing tradition in their home of Marlow, UK. By investing in a Brew 80, they achieved yields of 95% or better, along with reduced DO pickup to ensure more consistent beer quality.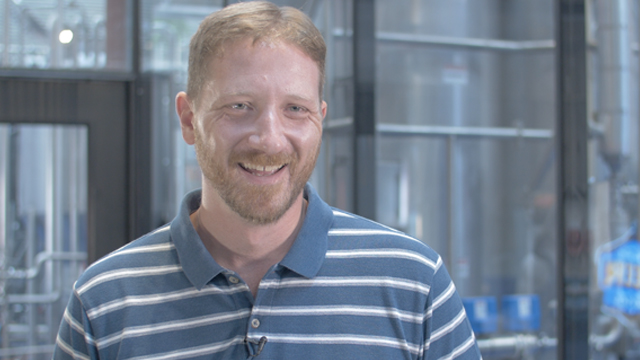 Your questions answered
in our video guide
Whether you've been shopping around for a centrifuge for a long time, or have just started considering investing in one, our experts give you answers to the most important beer separation questions. Among the questions answered in our video guide are:
how can a centrifuge help you to improve flavours and aroma of your beer?
what financial benefits can you expect if you add a separator in your process?
Alfa Laval beer centrifuges for craft breweries
Craft brewing is all about bringing unique flavour to your customers. Whether you make crystal clear lager or hazy IPA, Alfa Laval's craft centrifuges protect the character and quality of your beer, while boosting efficiency in your production.